Dun dun dun! It's Tuesday and we're back with another segment of Top Ten Tuesday brought to us by The Broke and the Bookish. With the end of the year nearing and therefore the beginning of a new year in the cross-hairs, the theme this week is '2016 Debut Novels I'm Looking Forward To'! Now, let's see what 2016 is going to offer us! Shall we?
2016 Debut Novels
(Click Covers to view on Goodreads)
1) Burning Glass by Kathryn Purdie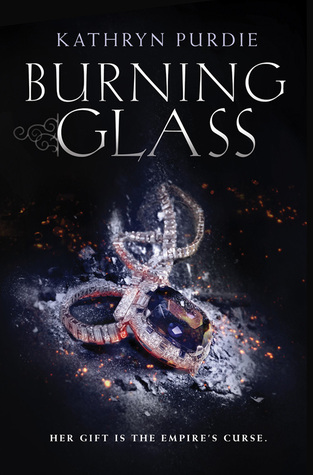 Sonya was born with the rare gift to feel what those around her feel—both physically and emotionally—a gift she's kept hidden from the empire for seventeen long years. After a reckless mistake wipes out all the other girls with similar abilities, Sonya is hauled off to the palace and forced to serve the emperor as his sovereign Auraseer.
Tasked with sensing the intentions of would-be assassins, Sonya is under constant pressure to protect the emperor. One mistake, one small failure, will cost her own life and the lives of the few people left in the world who still trust her.
But Sonya's power is untamed and reckless, her feelings easily usurped, and she sometimes can't decipher when other people's impulses end and her own begin. In a palace full of warring emotions and looming darkness, Sonya fears that the biggest danger to the empire may be herself.
As she struggles to wrangle her abilities, Sonya seeks refuge in her tenuous alliances with the volatile Emperor Valko and his idealistic younger brother, Anton, the crown prince. But when threats of revolution pit the two brothers against each other, Sonya must choose which brother to trust—and which to betray.
2) Into the Dim by Janet B. Taylor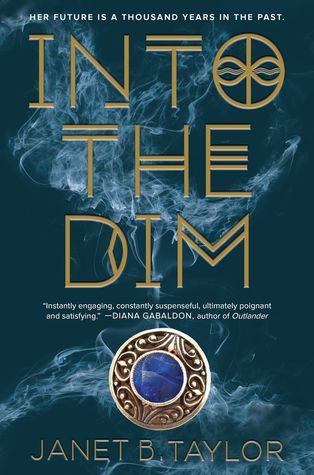 When fragile, sixteen-year-old Hope Walton loses her mom to an earthquake overseas, her secluded world crumbles. Agreeing to spend the summer in Scotland, Hope discovers that her mother was more than a brilliant academic, but also a member of a secret society of time travelers. Trapped in the twelfth century in the age of Eleanor of Aquitaine, Hope has seventy-two hours to rescue her mother and get back to their own time. Along the way, her path collides with that of a mysterious boy who could be vital to her mission . . . or the key to Hope's undoing.
3) Sword and Verse by Kathy MacMillan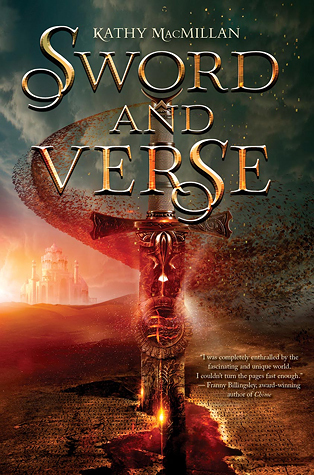 Raisa was just a child when she was sold to work as a slave in the kingdom of Qilara. Despite her young age, her father was teaching her to read and write, grooming her to take his place as a Learned One. In Qilara, the Arnathim, like Raisa, are the lowest class, and literacy is a capital offense. What's more, only the king, prince, tutor, and tutor-in-training are allowed to learn the very highest order language, the language of the gods. So when the tutor-in-training is executed for teaching slaves this sacred language, and Raisa is selected to replace her, Raisa knows any slipup on her part could mean death.
Keeping her secret is hard enough, but the romance that's been growing between her and Prince Mati isn't helping matters. Then Raisa is approached by the Resistance—an underground army of slave rebels—to help liberate Arnath slaves. She wants to free her people, but that would mean aiding a war against Mati. As Raisa struggles with what to do, she discovers a secret that the Qilarites have been hiding for centuries—one that, if uncovered, could bring the kingdom to its knees.
4) The Impostor Queen by Sarah Fine

Sixteen-year-old Elli was a small child when the Elders of Kupari chose her to succeed the Valtia, the queen who wields infinitely powerful ice and fire magic. Since then, Elli has lived in the temple, surrounded by luxury and tutored by magical priests, as she prepares for the day when the Valtia perishes and the magic finds a new home in her. Elli is destined to be the most powerful Valtia to ever rule.
But when the queen dies defending the kingdom from invading warriors, the magic doesn't enter Elli. It's nowhere to be found.
Disgraced, Elli flees to the outlands, the home of banished criminals—some who would love to see the temple burn with all its priests inside. As she finds her footing in this new world, Elli uncovers devastating new information about the Kupari magic, those who wield it, and the prophecy that foretold her destiny. Torn between the love she has for her people and her growing loyalty to the banished, Elli struggles to understand the true role she was meant to play. But as war looms, she must align with the right side—before the kingdom and its magic are completely destroyed.
5) Unhooked by Lisa Maxwell

For as long as she can remember, Gwendolyn Allister has never had a place to call home—all because her mother believes that monsters are hunting them. Now these delusions have brought them to London, far from the life Gwen had finally started to build for herself. The only saving grace is her best friend, Olivia, who's coming with them for the summer.
But when Gwen and Olivia are kidnapped by shadowy creatures and taken to a world of flesh-eating sea hags and dangerous Fey, Gwen realizes her mom might have been sane all along.
The world Gwen finds herself in is called Neverland, yet it's nothing like the stories. Here, good and evil lose their meaning and memories slip like water through her fingers. As Gwen struggles to remember where she came from and find a way home, she must choose between trusting the charming fairy-tale hero who says all the right things and the roguish young pirate who promises to keep her safe.
With time running out and her enemies closing in, Gwen is forced to face the truths she's been hiding from all along. But will she be able to save Neverland without losing herself?
6) The Star-Touched Queen by Roshani Chokshi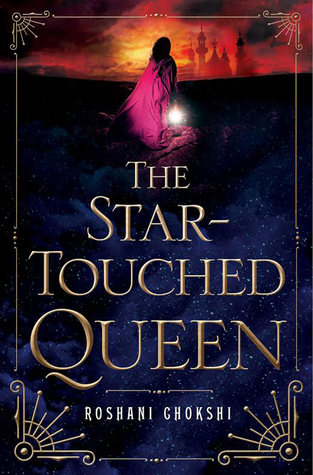 Cursed with a horoscope that promises a marriage of Death and Destruction, sixteen-year-old Maya has only earned the scorn and fear of her father's kingdom. Content to follow more scholarly pursuits, her world is upheaved when her father, the Raja, arranges a wedding of political convenience to quell outside rebellions. But when her wedding takes a fatal turn, Maya becomes the queen of Akaran and wife of Amar. Yet neither roles are what she expected. As Akaran's queen, she finds her voice and power. As Amar's wife, she finds friendship and warmth.
But Akaran has its own secrets – thousands of locked doors, gardens of glass, and a tree that bears memories instead of fruit. Beneath Akaran's magic, Maya begins to suspect her life is in danger. When she ignores Amar's plea for patience, her discoveries put more than new love at risk – it threatens the balance of all realms, human and Otherworldly.
Now, Maya must confront a secret that spans reincarnated lives and fight her way through the dangerous underbelly of the Otherworld if she wants to protect the people she loves.
7) Everland by Wendy Spinale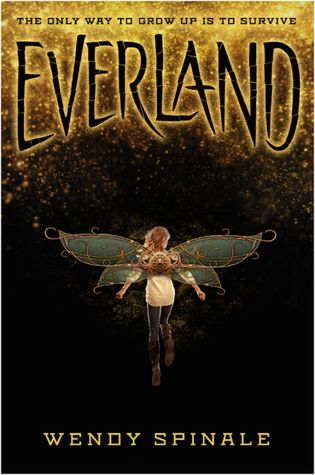 Forget the story of Peter Pan you know. Because in Everland, the only way to grow up is to survive.
London has been destroyed in a blitz of bombs and disease. The only ones who have survived are children, among them Gwen Darling and her siblings, Joanna and Mikey. They spend their nights scavenging and their days avoiding the ruthless Marauders — the German Army led by Captain Hanz Otto Oswald Kretschmer.
Unsure if the virus has spread past England's borders but desperate to leave, Captain Hook hunts for a cure, which he thinks can be found in one of the survivors. He and his Marauders stalk the streets snatching children for experimentation. None ever return. Until the day they grab Joanna. As Gwen sets out to save her, she meets a mysterious boy named Pete. Pete offers the assistance of his gang of Lost Boys and the fierce sharpshooter Bella, who have all been living in a city hidden underground. But in a place where help has a steep price and every promise is bound by blood, it will cost Gwen. And are she, Pete, the Lost Boys, and Bella enough to outsmart Captain Hook?
8) Tone Deaf by Olivia Rivers

Ali Collins was a prodigy destined to become one of the greatest musicians of the 21st century.
Until the brain tumor struck.
Now seventeen, Ali lives in a soundless world where she gets by with ASL and lip-reading. So when she meets Jace Beckett, she thinks he's her worst nightmare come true. Jace is the lead singer for the wildly-popular band Tone Deaf, and he's exactly the kind of success-story Ali hates and resents.
Nineteen-year-old Jace has it all: fame, money, and legions of fans. Every night on tour brings a new performance and a new girl, which is just what he needs to avoid the pain of relationships.
But when Jace learns Ali is being abused, he reluctantly proposes a solution: Run away with him and his band as they tour the country. With freedom in sight, Ali takes the offer. Immediately, she's swept into a world filled with wild punk music, wilder musicians, and maybe—just maybe—love.
9) Outrun the Moon by Stacey Lee

San Francisco, 1906: Fifteen-year-old Mercy Wong is determined to break from the poverty in Chinatown, and an education at St. Clare's School for Girls is her best hope. Although St. Clare's is off-limits to all but the wealthiest white girls, Mercy gains admittance through a mix of cunning and a little bribery, only to discover that getting in was the easiest part. Not to be undone by a bunch of spoiled heiresses, Mercy stands strong—until disaster strikes.
On April 18, an historic earthquake rocks San Francisco, destroying Mercy's home and school. With martial law in effect, she is forced to wait with her classmates for their families in a temporary park encampment. Mercy can't sit by while they wait for the Army to bring help. Fires might rage, and the city may be in shambles, yet Mercy still has the 'bossy' cheeks that mark her as someone who gets things done. But what can one teenaged girl do to heal so many suffering in her broken city?
10) My Lady Jane by Cynthia Hand, Brodi Ashton, Jodi Meadows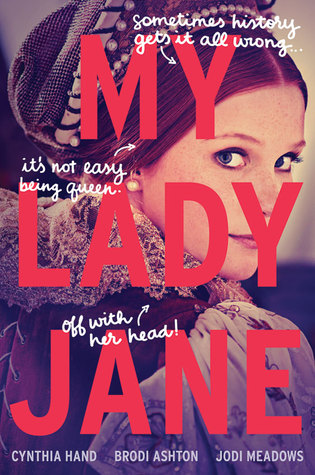 For fans of The Princess Bride comes the comical, fantastical, romantical, (not) entirely true story of Lady Jane Grey.
Lady Jane Grey, sixteen, is about to be married to a total stranger—and caught up in an insidious plot to rob her cousin, King Edward, of his throne. But that's the least of Jane's problems. She's about to become Queen of England. Like that could go wrong.
These ten books are just a handful of the many amazing books that I'm looking forward to in 2016. Do you recognize any of them? Are you looking forward to them as well or is there another book that tickles your fancy?