Hey y'all! Just a few more days until the end of 2015. Can you believe it? I have no idea where the time went. Honestly, I thought it was still like 2010. :p Anyway, today's Top Ten Tuesday theme, which is brought to us by The Broke and The Bookish, is 'Top Ten Most Anticipated Releases For The First Half of 2016'. So, let's find out what I'm looking forward to.
Jan-Jun 2016 Releases
(Click Covers to view on Goodreads)
1. A Drop of Night by Stefan Bachmann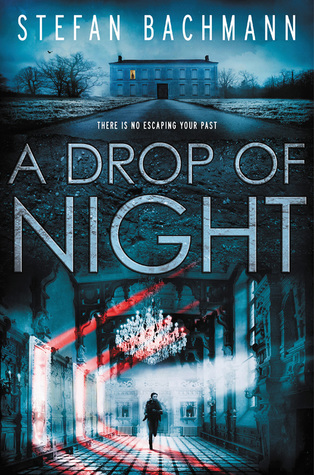 Five gifted teenagers are selected out of hundreds of other candidates to fly to France and help with the excavation of a vast, underground palace buried a hundred feet below the suburbs of Paris. Built in the 1780's to hide an aristocratic family and a mad duke during the French Revolution, the palace was sealed after the aristocrats fled there. No one has set foot in it for over two centuries.
Or so they thought.
But nothing is as it seems, and the teenagers—bitter, iron-hearted Anouk, gentle Will, bubbly Lilly, and crazy Jules— soon find themselves embroiled in a game far more sinister, and dangerous, than they could possibly have imagined. An evil spanning centuries is waiting for them in the depths. . .
You cannot escape the palace.
You cannot guess its secrets.
---
2. The Moon in the Palace by  Weina Dai Randel

There is no easy path for a woman aspiring to power.
A concubine at the palace learns quickly that there are many ways to capture the Emperor's attention. Many paint their faces white and style their hair attractively, hoping to lure in the One Above All with their beauty. Some present him with fantastic gifts, such as jade pendants and scrolls of calligraphy, while others rely on their knowledge of seduction to draw his interest. But young Mei knows nothing of these womanly arts, yet she will give the Emperor a gift he can never forget.
Mei's intelligence and curiosity, the same traits that make her an outcast among the other concubines, impress the Emperor. But just as she is in a position to seduce the most powerful man in China, divided loyalties split the palace in two, culminating in a perilous battle that Mei can only hope to survive.
In the breakthrough first volume in the Empress of Bright Moon duology, Weina Dai Randel paints a vibrant portrait of ancient China—where love, ambition, and loyalty can spell life of death—and the woman who came to rule it all.
---
3. Blackhearts by Nicole Castroman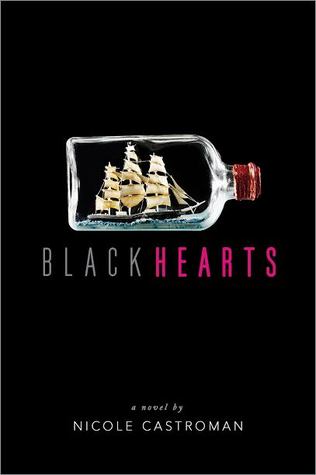 Blackbeard the pirate was known for striking fear in the hearts of the bravest of sailors. But once he was just a young man who dreamed of leaving his rigid life behind to chase adventure in faraway lands. Nothing could stop him—until he met the one girl who would change everything.
Edward "Teach" Drummond, son of one of Bristol's richest merchants, has just returned from a year-long journey on the high seas to find his life in shambles. Betrothed to a girl he doesn't love and sick of the high society he was born into, Teach dreams only of returning to the vast ocean he'd begun to call home. There's just one problem: convincing his father to let him leave and never come back.
Following her parents' deaths, Anne Barrett is left penniless and soon to be homeless. Though she's barely worked a day in her life, Anne is forced to take a job as a maid in the home of Master Drummond. Lonely days stretch into weeks, and Anne longs for escape. How will she ever realize her dream of sailing to Curaçao—where her mother was born—when she's stuck in England?
From the moment Teach and Anne meet, they set the world ablaze. Drawn to each other, they're trapped by society and their own circumstances. Faced with an impossible choice, they must decide to chase their dreams and go, or follow their hearts and stay.
---
4. In Another Life by Julie Christine Johnson

Historian Lia Carrer has finally returned to southern France, determined to rebuild her life after the death of her husband. But instead of finding solace in the region's quiet hills and medieval ruins, she falls in love with Raoul, a man whose very existence challenges everything she knows about life–and about her husband's death. As Raoul reveals the story of his past to Lia, she becomes entangled in the echoes of an ancient murder, resulting in a haunting and suspenseful journey that reminds Lia that the dead may not be as far from us as we think.
Steeped in the rich history and romantic landscape of rural France, In Another Life is a story of love that conquers time and the lost loves that haunt us all.
---
5. Revenge and the Wild by Michelle Modesto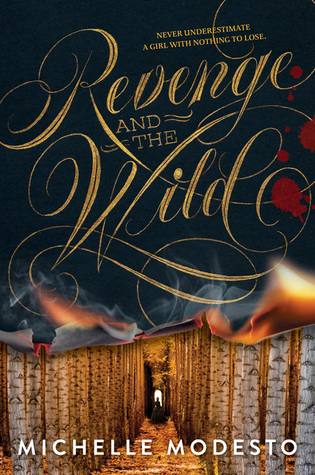 The two-bit town of Rogue City is a lawless place, full of dark magic and saloon brawls, monsters and six-shooters. But it's perfect for seventeen-year-old Westie, the notorious adopted daughter of local inventor Nigel Butler.
Westie was only a child when she lost her arm and her family to cannibals on the wagon trail. Nine years later, Westie may seem fearsome with her foul-mouthed tough exterior and the powerful mechanical arm built for her by Nigel, but the memory of her past still haunts her. She's determined to make the killers pay for their crimes—and there's nothing to stop her except her own reckless ways.
But Westie's search ceases when a wealthy family comes to town looking to invest in Nigel's latest invention, a machine that can harvest magic from gold—which Rogue City desperately needs as the magic wards that surround the city start to fail. There's only one problem: the investors look exactly like the family who murdered Westie's kin. With the help of Nigel's handsome but scarred young assistant, Alistair, Westie sets out to prove their guilt. But if she's not careful, her desire for revenge could cost her the family she has now.
This thrilling novel is a remarkable tale of danger and discovery, from debut author Michelle Modesto.
---
6. Bookishly Ever After by Isabel Bandeira

In a perfect world, sixteen-year-old Phoebe Martins' life would be a book. Preferably a YA novel with magic and a hot paranormal love interest. Unfortunately, her life probably wouldn't even qualify for a quiet contemporary. But when Phoebe finds out that Dev, the hottest guy in the clarinet section, might actually have a crush on her, she turns to her favorite books for advice. Phoebe overhauls her personality to become as awesome as her favorite heroines and win Dev's heart. But if her plan fails, can she go back to her happy world of fictional boys after falling for the real thing?
---
7. Riders by Veronica Rossi

For eighteen-year-old Gideon Blake, nothing but death can keep him from achieving his goal of becoming a U.S. Army Ranger. As it turns out, it does.
Recovering from the accident that most definitely killed him, Gideon finds himself with strange new powers and a bizarre cuff he can't remove. His death has brought to life his real destiny. He has become War, one of the legendary four horsemen of the apocalypse.
Over the coming weeks, he and the other horsemen–Conquest, Famine, and Death–are brought together by a beautiful but frustratingly secretive girl to help save humanity from an ancient evil on the emergence.
They fail.
Now–bound, bloodied, and drugged–Gideon is interrogated by the authorities about his role in a battle that has become an international incident. If he stands any chance of saving his friends and the girl he's fallen for–not to mention all of humankind–he needs to convince the skeptical government officials the world is in imminent danger.
But will anyone believe him?
---
8. Truthwitch by Susan Demnard.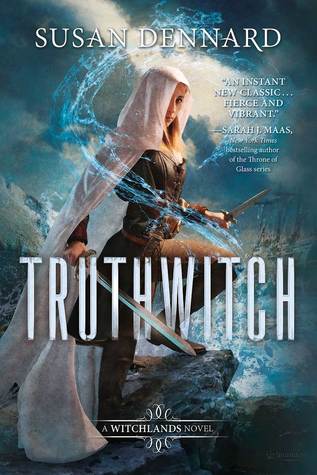 On a continent ruled by three empires, some are born with a "witchery", a magical skill that sets them apart from others.
In the Witchlands, there are almost as many types of magic as there are ways to get in trouble—as two desperate young women know all too well.
Safiya is a Truthwitch, able to discern truth from lie. It's a powerful magic that many would kill to have on their side, especially amongst the nobility to which Safi was born. So Safi must keep her gift hidden, lest she be used as a pawn in the struggle between empires.
Iseult, a Threadwitch, can see the invisible ties that bind and entangle the lives around her—but she cannot see the bonds that touch her own heart. Her unlikely friendship with Safi has taken her from life as an outcast into one of reckless adventure, where she is a cool, wary balance to Safi's hotheaded impulsiveness.
Safi and Iseult just want to be free to live their own lives, but war is coming to the Witchlands. With the help of the cunning Prince Merik (a Windwitch and ship's captain) and the hindrance of a Bloodwitch bent on revenge, the friends must fight emperors, princes, and mercenaries alike, who will stop at nothing to get their hands on a Truthwitch.
---
9. The Crown's Game by Evelyn Skye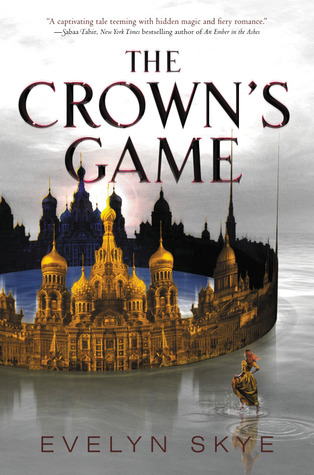 Vika Andreyeva can summon the snow and turn ash into gold. Nikolai Karimov can see through walls and conjure bridges out of thin air. They are enchanters—the only two in Russia—and with the Ottoman Empire and the Kazakhs threatening, the Tsar needs a powerful enchanter by his side.
And so he initiates the Crown's Game, an ancient duel of magical skill—the greatest test an enchanter will ever know. The victor becomes the Imperial Enchanter and the Tsar's most respected adviser. The defeated is sentenced to death.
Raised on tiny Ovchinin Island her whole life, Vika is eager for the chance to show off her talent in the grand capital of Saint Petersburg. But can she kill another enchanter—even when his magic calls to her like nothing else ever has?
For Nikolai, an orphan, the Crown's Game is the chance of a lifetime. But his deadly opponent is a force to be reckoned with—beautiful, whip smart, imaginative—and he can't stop thinking about her.
And when Pasha, Nikolai's best friend and heir to the throne, also starts to fall for the mysterious enchantress, Nikolai must defeat the girl they both love . . . or be killed himself.
As long-buried secrets emerge, threatening the future of the empire, it becomes dangerously clear . . . the Crown's Game is not one to lose.
---
10. The Forbidden Wish by Jessica Khoury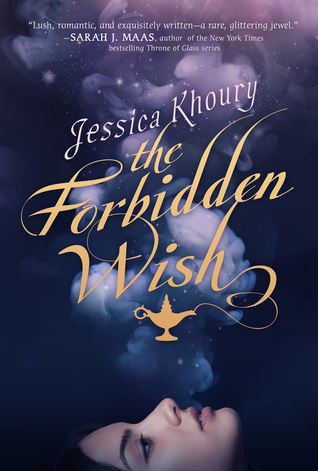 When Aladdin discovers Zahra's jinni lamp, Zahra is thrust back into a world she hasn't seen in hundreds of years — a world where magic is forbidden and Zahra's very existence is illegal. She must disguise herself to stay alive, using ancient shape-shifting magic, until her new master has selected his three wishes.
But when the King of the Jinn offers Zahra a chance to be free of her lamp forever, she seizes the opportunity—only to discover she is falling in love with Aladdin. When saving herself means betraying him, Zahra must decide once and for all: is winning her freedom worth losing her heart?
As time unravels and her enemies close in, Zahra finds herself suspended between danger and desire in this dazzling retelling of Aladdin from acclaimed author Jessica Khoury.
---
What books are you most looking forward to in early 2016?