NOTE: I'm so sorry this is late guys. 😦 I lost track of the days this week and thought yesterday was Friday and that means I didn't have to write a discussion post. *sigh*
Why can't we just love the villains?
"Who's your favorite character in the series?"
"The villain."
"Wait… what? But… they're evil!"
"Exactly." *evil smirk*
No, I'm just kidding! Haha! But really though… I love villains. I love villains better than the heroes in many of the stories and movies and tv shows. Why? Well for one, they're not overly self-righteous.
Self-Righteous BS
It gets really old really quick when a character is ALWAYS doing the right thing. I mean, more often than not the hero can't even imagine doing something bad because it goes against their 'moral code'. Like breaking and entering even if could help people. Or stealing something that is vital to someone else's survival or to completing a quest. These little things are so minuscule in the grand scheme of saving the world or just saving a single person's life, but they can't do them because they're 'wrong'.
And let's be honest. How many people, in real life, do you know that are oh-so squeaky clean? o.O No one? Yeah, that's what I thought. NO one is perfect. NO one has the moral code of a freakin' deity (whomever your deity may be.) It's just not plausible and they never, never do anything selfish. It's just… predictable. Doesn't it get boring for you guys? It does for me.
On the other hand, the villain does whatever the fudge they want. They break and enter and steal and maim and kill and do whatever it takes to get what they want. And did I mention 'whatever they want'? They aren't afraid of the consequences because they believe achieving their goal is worth it. Worth everything really. They think that nothing else could even come close to their ultimate desire. That's really the big difference between villains and heroes, but it's also what make heroes so annoying sometimes.
Villains are humans, too, guys 😦
The one thing that people seem to forget about villains: they're humans, too. They have pasts with successes and horrors. They have fears. And they have dreams. More often than not, the reason why they're the villain is because often times their 'dreams' were stolen from them and so their new dream is revenge or they want power, which is inherently wrong for some reason. What if they want power to protect their home and their family? What if they want power to cover up their personal lack of self-worth? What if they want power because they were the kid who was picked on all the time and never had a way to stand up for themselves?
Did you ever think of that? Did you? I bet not. But why should you? We only see their lust for power as greedy because they're willing to sacrifice others for their cause. How can it be wrong to risk others for the lives of those you love? Maybe it has do with the mantra 'lives of the many before lives of the few'. Still not sure how I feel about that… >.>
What would you do?
I don't like to ask moral questions(especially since morals aren't fundamental, but environmentally built), but if you were given the option to save your loved one (be that brother, sister, mother, father, child, spouse, friend, etc) over a complete stranger, would you? It's a difficult question for people with 'morals'. However, as stated above, morals are different for everyone. Aka morals between heroes, us, and villains may not be the same, which is why we may not understand the villains and their 'evilness'.
Moral Code
Really what it comes down to is that villains have a different sense of moral code than heroes do, but this honestly backfires in the face of heroes all the time. The biggest downfall of being a hero is actually the ending, when the hero saves the day by foiling the villain's plot and capturing them. Yay! Congrats! You saved the day and defeated the villain, now what?
"Oh, let's just lock them up in this extremely easy to escape prison and wait for them to come back with an even deadlier plot next time. Yeah, that sounds like a good idea."
…
…
*crickets*
Superheroes are Idiots
"Let's just lock 'em up and give 'em a slap on the wrist," said every superhero ever. >.> I'm lookin' at you, Superman, and you, Spiderman. How many times has Lex Luther or the Green Goblin come back to bite you in face? I lost count three seasons/series ago. *eye roll*
I mean, come on already! If someone tried to blow up the world (which I can't personally fathom as a realistic goal because it would end the villain's life, too), the smart thing to do would be to kill them. After all, it's not like they're normal criminals. They are SUPER-villains! They are MASTERMINDS! They're whole thing is being so conniving that they can literally plot the end of the world/mass destruction/world domination. Yet you think they'll be unable to break out of prison? -.- Killing super-villains is the only option.
"Oh! But that goes against the hero moral code. They can't kill people. That would make them as bad as villains."
No, that just makes heroes stupid. What do they think is going to happen? That the super-powered villains are just going to sit and rot in their prison cells until they die? Yeah, I don't think so. And it's not like you can let them go after ten years. Their goals haven't changed. They're still going to try and kill you/destroy the world/etc.
Back to Villains
And it's for this reason that I love villains: their willingness to do whatever it takes to get what they want. Perhaps it's the Slytherin in me that makes me love them, but I do. And it kind of irks me when the villain is all like 'oh darn. I lost, but now I'm good because you've shown me the light oh powerful hero.' Because that's garbage. Unless somehow you change the villain's goals and dreams, they aren't suddenly going to become 'good'. It doesn't work like that, hun. -.-
Bad-assery at its finest!
Last thing of note for why I love villains: they're badasses! They get the best theme music, the best costumes, the best entrances, and the best lines. Whatever it is, movies and books are doing really bad jobs of making villains seem not cool because they really do make bad look good. :p *goes back to sewing a Harley Quinn costume with an evil smirk and diabolical music playing in the background*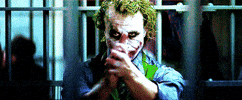 ---
What do you think about villains?
Leave a comment below telling me your thoughts on villains.