DAUGHTER OF SMOKE & BONE
by Laini Taylor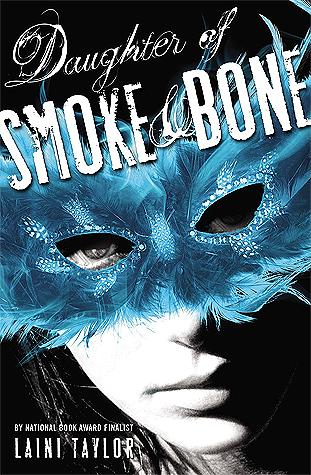 Genre: Young Adult, Fantasy
Pub Date: Sep 27, 2011
Publisher: Hachette Audio
Length: Audiobook
Spoilers: N/A
Goodreads ♦ Amazon($6.70)
---
Around the world, black handprints are appearing on doorways, scorched there by winged strangers who have crept through a slit in the sky.

In a dark and dusty shop, a devil's supply of human teeth grown dangerously low.

And in the tangled lanes of Prague, a young art student is about to be caught up in a brutal otherwordly war.

Meet Karou. She fills her sketchbooks with monsters that may or may not be real; she's prone to disappearing on mysterious "errands"; she speaks many languages – not all of them human; and her bright blue hair actually grows out of her head that color. Who is she? That is the question that haunts her, and she's about to find out.

When one of the strangers – beautiful, haunted Akiva – fixes his fire-colored eyes on her in an alley in Marrakesh, the result is blood and starlight, secrets unveiled, and a star-crossed love whose roots drink deep of a violent past. But will Karou live to regret learning the truth about herself?
---
Repetition
I am not sure why an author would do this, but many scenes in this book were repeated in different POVs. (Mind you, it's in 3rd person. So, POV is a relative term in this book.) I could understand the same time point being repeated in different POVs, but if both POVs offer the same exact information, then it's just useless space in the book. In other words, it drove me to grow bored and lose interest.
Time Jumps
Lord-ee! Another element that offered unnecessary information were the time jumps. One second you're in present day, the next you're like… what? 30+ years in the past? With no pre-tense whatsoever (because time jumps are not obvious AT ALL when listening to an audiobook. -.-) Not to mention, by the end of the book, the time jumps were going back to periods that had already been time-jumped to, once more repeating information we already knew.
The Concept
Ooo! I love the concept. I mean, there was nothing particularly 'new' in this story, but the mash-up of all the elements to make the world in this story was amazing! I had figured out a few of the pieces half-way through the book, but some of the others were left a surprise until it was revealed to the main character. Those were the real gems of this story!
Get on with it already
As I'm sure you can tell from the previous comments, but this book dragged! Not only were scenes repeated (offering only minuscule differences), but every reveal was dragged out beyond its shelf-life. By that I mean, you know something is going to be revealed. However, the characters just keep beating around the bush, never actually telling you what the big deal is until you literally do not care anymore because it was dragged out for so long. -.-
---
---

---