BERSERKER
by Emmy Laybourne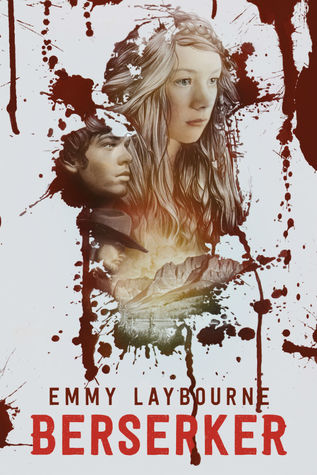 Genre: Young Adult, Historical Fiction
Pub Date: Oct 10, 2017
Publisher: Feiwel & Friends
Length: 352 pages
Spoilers: MARKED
Goodreads ♦ Amazon($9.99)
I received this free digital ARC from the publisher via Netgalley in exchange for my honest review.
---
Are Hanne's powers a gift from the old Norse gods, or a curse?

Her brother Stieg swears their powers are a gift from the old gods, but Hanne Hemstad knows she is truly cursed. It's not Stieg's fault that their father is dead, their mother has left, and their brother Knut has been accused of a crime he didn't commit.

No, the fault lies with Hanne and her inability to control her murderous "gift"—she is a Berserker. When someone she loves is threatened, she flies into a killing state. The siblings must leave Norway for the American frontier or risk being brought to justice.

Aided by a young cowboy who agrees to be their guide, Hanne and her siblings use their powers to survive the perilous trail, where blizzards, wild animals, and vicious bounty hunters await.

Will they be able to reach their uncle, the one man Hanne believes may be able to teach her how to control her drive to kill? With Berserker, Emmy Laybourne, the author of Monument 14, presents her vision of an American west studded with Viking glory.
---
Unique concept
Dang! I really love this concept! The Norse mythology was so unique and so well utilized in the story. And yet the rest of the story just didn't really do it justice because the actual reasoning behind the plot felt almost 2nd to something else. Would have loved more focus on the mythology and how this affected the characters (ie their development.)
Slow
This is not a fast-paced story. Even the intense scenes do not really have a sense of adrenaline or thrill to them. They just are. It kind of lessened the intensity and intrigue of the story, which was quite disappointing as it was such a cool concept.
Undeveloped characters
This… is quite sad. The personalities of all the characters were so different from each other that it honestly felt forced. They felt too different from each other. And none of them really felt well-developed, like there were multiple layers to the characters. Honestly, I think this had to do partly with the number of characters followed through the story. At least two of them had no purpose in being highlighted so much and their scenes could've easily been stricken from the book, which would've made for a tighter, potentially faster story.
Predictable
Sorry to say, this story is extremely predictable. I could figure out what was going to happen and when and to whom before it ever happened, which also had a negative impact on my interest in this story. I didn't quite see how the ending was going to happen, it was still extremely obvious it was going to happen. Nothing surprising happened in this story and I kind of wish it had.
---

Siblings
Look, I get the whole 'unquestioned family love' thing and wanting to take care of your family and what not, but I honestly don't think I could love a family that was this gosh-darn obnoxious. Yeah, yeah. Sissel is only 12, but she is the most annoying 12-year-old I have ever seen in my life, especially given the, oh, I don't know! Life-threatening emergency?! Stop complaining. Or die. Honestly! Her lack of character development (or attempted character development at the very end) was just kind of unrealistic and uninteresting. I was really hoping she was going to die at some point.
---
---