TRUTHWITCH
by Susan Dennard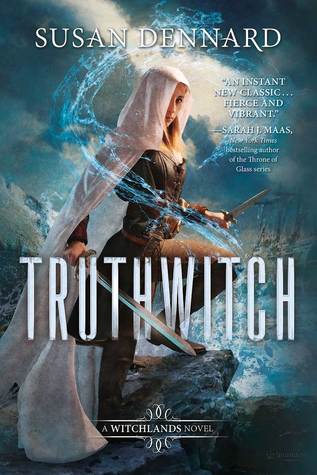 Genre: Young Adult, Fantasy
Pub Date: Jan 5, 2016
Publisher: Tor Teen
Length: 412 pages
Spoilers: MARKED
Goodreads ♦ Amazon($12.14)
---
In a continent on the edge of war, two witches hold its fate in their hands.

Young witches Safiya and Iseult have a habit of finding trouble. After clashing with a powerful Guildmaster and his ruthless Bloodwitch bodyguard, the friends are forced to flee their home.

Safi must avoid capture at all costs as she's a rare Truthwitch, able to discern truth from lies. Many would kill for her magic, so Safi must keep it hidden – lest she be used in the struggle between empires. And Iseult's true powers are hidden even from herself.

In a chance encounter at Court, Safi meets Prince Merik and makes him a reluctant ally. However, his help may not slow down the Bloodwitch now hot on the girls' heels. All Safi and Iseult want is their freedom, but danger lies ahead. With war coming, treaties breaking and a magical contagion sweeping the land, the friends will have to fight emperors and mercenaries alike. For some will stop at nothing to get their hands on a Truthwitch.
---
God, that World-Building!
Ohhh! You all know me and world-building and this is a story that does NOT disappoint! The world-building, particularly the magic aspect, is exquisite! It's very well planned out, very well executed. A little overwhelming because there is soooo much of it, but I loved every piece of it and the way it blended into the cultures and nations and societal structure. Divine! 😀
Content
I don't know if I just wasn't in the right mindset to read this book (because stress), but I had a really hard time getting into this book because it felt like there was nothing going on. Which is weird. I know there was stuff going on. There was lots of stuff going on, but I guess… the tension wasn't there, maybe? Like it was a very low-impact read. It was good, but I just kept expecting more and I think that might be because this was a mixture between character and plot driven. Thus, it had elements of slow and fast and I just wasn't really feeling the pacing.
Complex
This is definitely a complex story. There are so many different plot lines, different character arcs, and schemes going on. At times I found it a bit difficult to keep up with it all, but it was woven together really well. I liked the different elements thrown in and I think that's one of the reasons this book felt a little on the slower side. That, mixed with the multiple POVs, at least. Though, I'm not too sure how I felt about the multi-POVs. I'm generally not a fan and sometimes it was a bit difficult to figure out who was being followed, but I didn't dislike enough to rant. 😉
---

Relationships
Obviously that relationship between Merik and Safi was gonna happen, but what about Iseult? I'm totally calling that Iseult and Aeduan are gonna be a thing. That chemistry, though! I feel it. Anybody else?
---
---

---