THE MARTIAN
by Andy Weir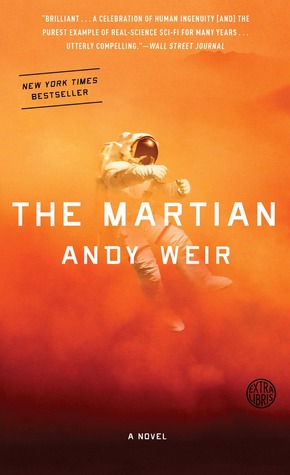 Genre: Adult, Scifi
Pub Date: Sep 27, 2012
Publisher: Broadway Books
Length: 369 pages
Spoilers: N/A
Goodreads ♦ Amazon($11.22)
---
Six days ago, astronaut Mark Watney became one of the first people to walk on Mars.

Now, he's sure he'll be the first person to die there.

After a dust storm forces his crew to evacuate the planet while thinking him dead, Mark finds himself stranded on Mars's surface, with no way to signal Earth that he's alive. And even if he could get word out, his supplies would be gone years before a rescue could arrive.

Chances are, though, Mark won't have time to starve to death. The damaged machinery, unforgiving environment or plain-old "human error" are much more likely to kill him first.

Armed with nothing but his ingenuity, his engineering skills–and a gallows sense of humor that proves to be his greatest source of strength–Mark embarks on a dogged quest to stay alive. But will his resourcefulness be enough to overcome the impossible odds against him?
---
Not Fast
This is NOT a book you are going to finish quickly. If you are expecting a fast, fun read or perhaps are thinking it is super action-packed like the movie, you are very wrong. This is a book filled with lots of science, lots of math, and tons of actual thinking going on. Personally, as a scientist, I loved it! It probably took me WAY longer than it should have because I couldn't just read and enjoy, I was actually trying to do all the math calculations and figure out the science along with Watney. But I'm a geek. 😉
REALISM!! YAS!!!
Okay. Anyone who reads my reviews knows just how much I care about stories being realistic. This means having plausible complications for the plans and legitimate consequences for their actions. THIS story had all of it. Every time you think things are going well, you knew something bad was about to screw it up because nothing (in science) EVER goes this smoothly. It was so legitimate and I loved it!
Personality
Mark Watney has so much gosh darn personality it hurts! Some times I couldn't remember that he was a full-grown man with specialties in two different fields because he just acted so human and so childish. I loved this because it's true to reality. We are all human. We all break and do stupid things and make selfish choices. Whats more is that Mark Watney's coping mechansim was fantastic. He was definitely the best character to have along for the ride in this story.
TO MARS!
Alright. This is just me being a TOTAL geek, but this story actually made me want to go to Mars. (which goes against EVERY survival instinct I have that says space is the most dangerous thing I could ever do besides ocean diving.) And yet this story was fun. I actually loved hearing about Mars and what it would be like. More importantly, I would love to be so smart and so resourceful that I could get picked to join a 6 person Mars team. Do you know the cred you would have?! (especially in my field! Hahahaha!) Wonderful.
Burn Out
I'll admit. Towards the end of 369 pages, I did get a bit burnt out on the science and the math. It's tons of fun in the beginning. It's like getting to know all the legitimate world building going into a fictional world (except Mars is real). But after a while, it did get a little tedious and I just could not keep up with all the math and chemistry and physics. I am a biologist, after all. However, at that point, I just needed to know if the ending was more plausible than the movie ending. So, naturally I had to finish. 🙂
---
---