THE CRUEL PRINCE
by Holly Black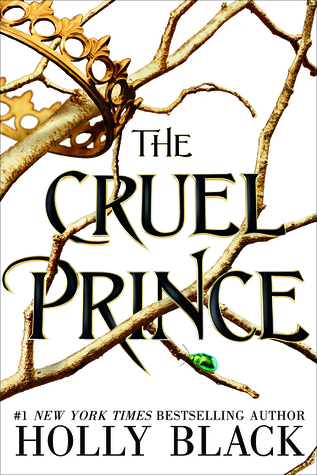 Genre: Young Adult, Fantasy
Pub Date: Jan 2, 2018
Publisher: Little, Brown Books FYR
Length: 384 pages
Spoilers: MARKED
Goodreads ♦ Amazon($12.91)
---
Jude was seven years old when her parents were murdered and she and her two sisters were stolen away to live in the treacherous High Court of Faerie. Ten years later, Jude wants nothing more than to belong there, despite her mortality. But many of the fey despise humans. Especially Prince Cardan, the youngest and wickedest son of the High King.

To win a place at the Court, she must defy him–and face the consequences.

In doing so, she becomes embroiled in palace intrigues and deceptions, discovering her own capacity for bloodshed. But as civil war threatens to drown the Courts of Faerie in violence, Jude will need to risk her life in a dangerous alliance to save her sisters, and Faerie itself.
---
TRIGGER WARNING:
Graphic Bullying
Predictable
This story was nothing unique, in my opinion. I found much of the plotline to be predictable and common for this type of story and the things the main character, Jude, did were very typical for that of a young female protagonist in this scenario. There were obvious items that were designed to be 'plot twists,' but they were really easy to pick up on if you were paying any attention.
Main Character
Jude, the main character, was really uninteresting for me. She had a personality, but she was definitely more of a reactor than an actor in this story. She spent most of the time simply 'surviving' or trying to supplicate to everyone else, which made her a really boring and difficult to care for.
'Book Two'
For some reason – unclear to me – The Cruel Prince has a 'Book One' and a 'Book Two' in it, but the book two is not of the sequel. It is of this first book and it really bothered me that it was labeled in this manner. However, 'Book Two' is where the action actually exists in the book. Had The Cruel Prince ended after 'Book One,' I would have simply closed it up and walked away without remembering a single thing that happened or likely wanting to read another Holly Black book ever again because that ending was so obvious and so cliche. But if you make it through 'Book One' then you'll enjoy 'Book Two' better.
---

Romance
Seriously, Jude? You find a piece of paper with your name furiously scribbled over it a hundred times and it NEVER dawns on you that there might be something OTHER than anger behind it? ANYBODY with a brain could tell those scribblings were not of hatred, but of desire. Cardan likes you, you halfwit!
And then there's Locke who played like a fucking fool! You really thought that out of nowhere he was just infatuated with you? Really?! Good god teenagers are portrayed as dumb. 
---
---

---